"We recognize that we need to invest more in primary care to keep people out of hospital and keep people healthier longer, and reduce the pressures on our acute care system, including our emergency departments"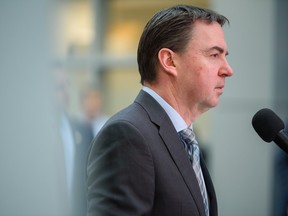 Article content
Alberta's UCP government promises to put more than $243 million over three years into primary health care initiatives as part of next week's provincial budget under Premier Danielle Smith.
Article content
At a Tuesday morning announcement in Calgary, Health Minister Jason Copping said the budget, expected to be unveiled on Feb. 28, will include $125 million towards initiatives recommended by Modernizing Alberta's Primary Health Care System (MAPS) advisory panels, $40 million to support primary care networks (PCNs) under the latest compensation deal with doctors, $27 million for primary care networks to provide for an expected increase in patients, and $12 million to support IT systems designed to improve continuity of care across the province.
Article content
There are eight PCNs in Edmonton, which are linked with doctor's offices meant to work together to care for patients.
The UCP said it will be putting a historic $2 billion into improving primary health care in 2023-24, although it didn't provide a specific comparison of what it considered total primary health care funding in previous years.
Article content
In an interview with Postmedia Monday, Copping said the announcement is about acknowledging that primary health care in the province needs immediate and long-term fixes so the rest of the health care system, including emergency room care, can deal with demand.
"Part of this is to let people know that we're doing the work and we're working quickly on it," said Copping.
It comes as many Albertans struggle to find a family doctor, and after Copping said last week the UCP would put $158 million into health care worker recruitment.
Also last week, the Opposition NDP unveiled a plan to put $150 million a year into hiring new health teams to boost the number of patients family doctors can see and increase access to primary health care.
Article content
The government said it had accepted "in principle" the recommendations of two MAPS advisory panels, first struck in fall of 2022, which are included in two interim reports released Tuesday.
Those broad recommendations did not come with specific dollar figures attached, but include creating an Indigenous Primary Health Care Innovation Fund, as well as providing primary care networks with two years of stimulus funding to help recruit and deploy non-physician staff.
Copping said the final MAPS reports are expected to be delivered at the end of March. Of the recommendations, he said the government plans to implement all of them, but some will take more time. He did not offer any specific timelines.
Copping confirmed that the funding envelope for PCNs won't come with any changes to the funding model or structure, but he has asked MAPS for long-term recommendations.
Article content
"The message that we've heard back is that both the funding model and the governance structure isn't working," said Copping. The panels are expected to offer advice for a 10-year plan.
Alberta health minister promises $158M in budget to recruit front-line health staff

Alberta NDP pitches $150 million a year to hire medical workers in primary health care team clinics
Copping said more multi-year funding commitments will come as all those recommendations roll in.
"We recognize that we need to invest more in primary care to keep people out of hospital and keep people healthier longer, and reduce the pressures on our acute care system, including our emergency departments," said Copping.
The government has already signalled it plans to boost health care funding by $600 million in the upcoming budget.
Article content
The government says there are 40 PCNs province-wide, including eight in the Edmonton health zone, which is slightly larger than the city itself.
Opposition health critic David Shepherd said that while PCNs "are absolutely part of the plan" should his party form government in the spring, he called Tuesday's announcement "just another plan to make a plan."
"It's yet another retread of the tired conservative playbook of cutting funding and tearing health care down for years and then pretending to fix the damage with a pre-election budget," he said.
"We need a new approach."
— with files from Matthew Black

link