Roger Jansen, Ph.D., is the Chief Innovation and Digital Health Officer for MSU Health Care. He discusses some of the current digital health trends and how MSU Health Care is utilizing these trends to provide high-quality care to patients.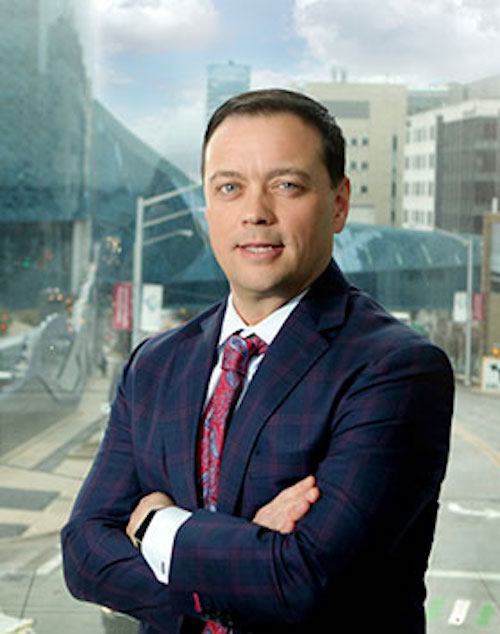 Roger Jansen
What does a Chief Innovation and Digital Health Officer do?
As part of my role, I'm focused on finding ways to expand MSU Health Care's services and provide care in various ways, including through digital, physical and preventative means. This requires MSU Health Care to explore different business models and technologies to make care more accessible and affordable. We are working to reach people in rural areas through remote patient monitoring and partnering with employers to lower their health care costs by providing care directly to their employee base. These are two solutions that should address health care disparities and ensure that everyone, including underrepresented populations, have access to the care they need.
What does digital front door mean? How does it benefit patients?
The "digital front door" is a term used for a patient's single point of contact to manage and schedule their care, giving them more control, influence and awareness. This should, in theory, lower costs and improve access. People often turn to Google rather than their health system's website or app for health information. Those who own a digital front door are more likely to be the first source for health information.  It's important to understand MSU Health Care's role and where we fit into the patient's electronic journey.
You are presenting at the upcoming Patient Access Collaborative Symposium. What is the importance of presentations at events like this?
MSU Health Care wants to be a better partner and resource for patients' care journeys. We don't always need to own everything; we can be part of an ecosystem, and every part is equally important. Academic medical centers need to balance their approach to ensure their methods align with the evolving health care landscape. Academic medical centers play a crucial role in this conversation, asking questions about what's possible and what needs to be questioned. Academic medical centers can't be afraid to challenge traditional models.
What is the value of these presentations for patients?
To make health care more accessible, academic medical centers need to use technology. We must understand how that technology fits in and what role do we play in facilitating patients' interactions with digital information. Patients want answers to their questions, and as diagnoses become more severe, traditional models become more important. Academic medical centers need to understand how to deliver care based on patients' needs, severity, and conditions. Collaborating with other academic medical centers allows MSU Health Care to see what has worked for them. From there, MSU Health Care can use this insight to improve patient care.
What are the digital health trends you are currently watching and how are you implementing these trends at MSU Health Care?
Many people are paying attention to the advancements in remote patient monitoring, telehealth, artificial intelligence and specialty care that can be done digitally. MSU Health Care has already implemented a remote patient monitoring program that has shown positive results in preventing serious conditions by monitoring patients' health and improving outcomes.
MSU Health Care is exploring the potential of AI in health care, but we're in the early stages of understanding what it can do. We're talking to companies about how AI can assist with diagnoses and help patients find the best care and payment options. We want to ensure patients get the care they need in the most effective and efficient way possible, whether that's through our services or elsewhere.
MSU Health Care currently has a telemedicine program, but we're exploring ways to expand it into retail settings and rural areas. Our goal is to connect patients to specialists in areas like endocrinology, gerontology, and psychiatry. To achieve this, we are starting to work with digital health companies that specialize in these areas. Patients receiving physical therapy often have difficulty leaving their homes, especially during bad weather. By offering remote physical therapy with the help of sensors on their phones, we can provide accurate and convenient care for patients recovering from surgery or experiencing pain in their back, shoulder, elbow, or knee. This is a significant benefit for MSU Health Care patients.
Is there anything else you would like to add? 
To lower health care costs in the U.S., academic medical centers need to break our old habits and work towards creating a solution. According to a recent report by The Commonwealth Fund comparing the U.S. to OECD averages which include countries like Canada, Japan, and the UK, we have the lowest life expectancy at birth, highest infant mortality rates, and pay double for the cost of health care. Academic medical centers can play a role in this solution, but it requires everyone to be on board. Sometimes people don't realize their actions may be creating problems for other industries and making health care less affordable for others. Academic medical centers need to change their mindset and work together towards a better solution.
Roger Jansen, PhD will be presenting at the Patient Access Collaborative Symposium on May 9-11. The symposium is hosted by MSU Health Care, and other MSU Health Care presenters include chief executive officer Seth Ciabotti, chief nursing officer Kris Allen, RN, MSN, chief medical information officer Nathan Fitton, DO, and director of projects Ceirra Hoch.
This story was was originally published on the MSU Health Care website. 
link