Government of Canada, through Nipissing-Timiskaming MP Anthony Rota, funds projects to increase workplace inclusion and connect persons with disabilities with good jobs in North Bay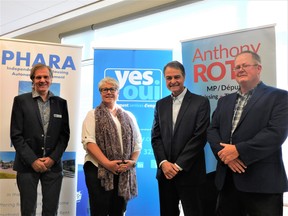 Article content
The Opportunities Fund (OF) assists persons with disabilities to overcome barriers to participation in the Canadian labour market, by funding projects that help them prepare for, find, and keep good jobs, become entrepreneurs, or advance in their careers.
Article content
Yes Employment Services in North Bay will benefit from this funding thanks to a $950,000.00 investment from the Department Diversity, Inclusion and Persons with Disabilities.

Article content
Over 36 months, Yes Employment Services will assist 165 employers. This project aligns with the OF program objective by providing supports to employers to help them make their workplaces more inclusive and accessible. Yes Employment has also partnered with PHARA (Physically Handicapped Adults' Rehabilitation Association) to assist them with this project by leaning on their expertise to create accessible workplaces.
The Honourable Anthony Rota, Member of Parliament for Nipissing-Timiskaming says, "This funding will help make Yes Employment Services more accessible and inclusive for constituents in North Bay and the surrounding area. I'm proud of highlighting a program will allow a local local service to be better equipped to help employers around the region to hire and retain their employees with disabilities.
Article content
This helps improve employment outcomes and will help grow the workforce, which is great news for our local economy." LeeAnne Maille, CEO Yes Employment Services, says "This exciting project brings together the employment expertise of Yes Employment Services and the knowledge and experience PHARA has in creating accessible workspaces for people with disabilities.
We are excited to collaborate in this cross-sector project to bring valuable tools to our local employers, ensuring more workplaces are accessible to all. We thank MP Rota and our federal funders from Employment and Social Development Canada (ESDC) for providing us with the opportunity to deliver this valuable program."
"As the Chair of the Yes Employment Board of Directors, I would like to thank ESDC and MP Rota for the support and confidence they have shown in the project Yes and PHARA has designed. I am proud of the continued growth of Yes Employment and am confident they will bring the same level of excellent service and performance to this project that the community has come to expect." says Alan Korell, Board Chair of Yes Employment Services. 
link