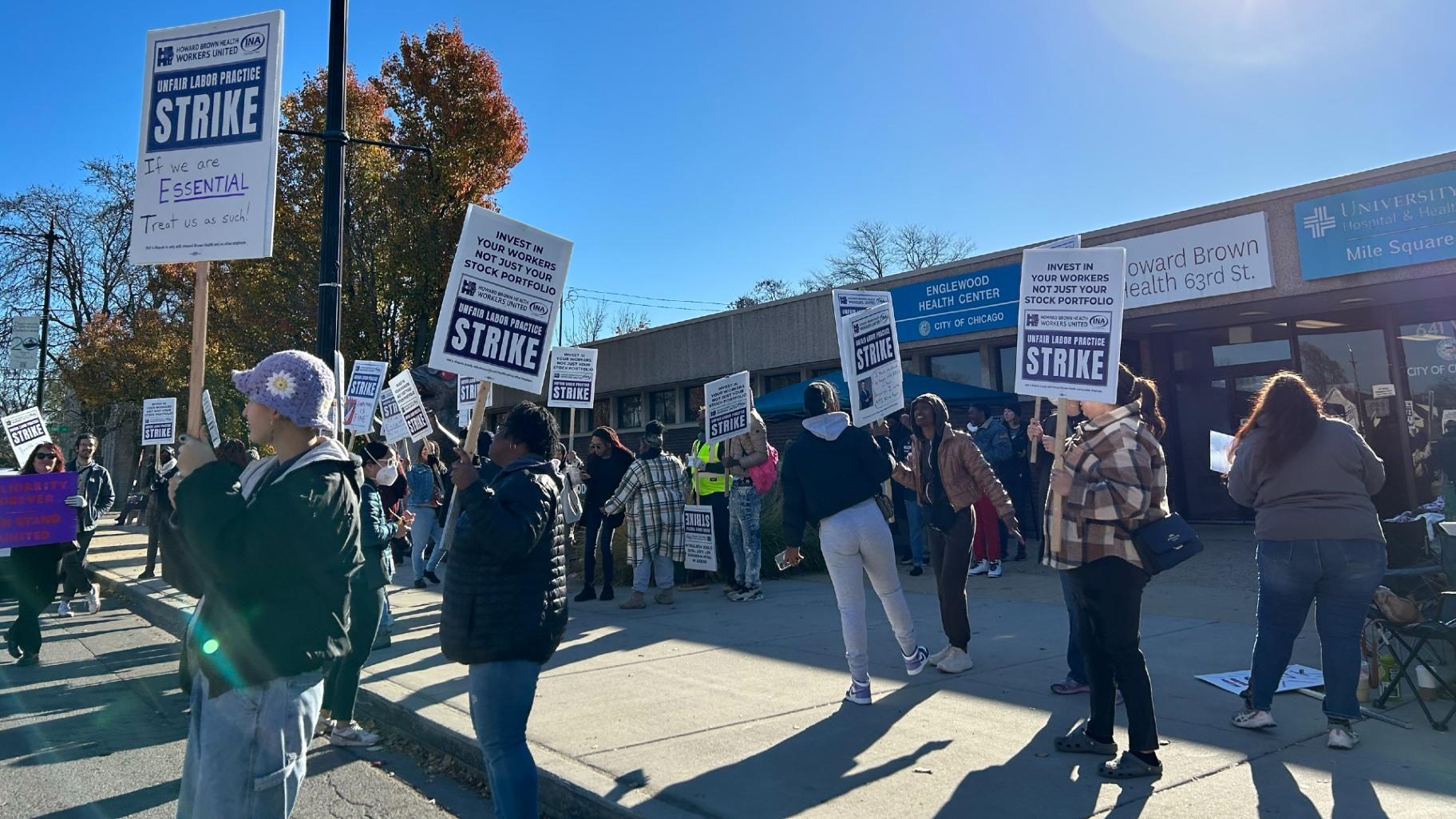 Members of the Howard Brown Health Workers United union on strike Nov. 14, 2023. (Blair Paddock / WTTW News)

Closing out the two-day unfair labor practice strike, Howard Brown Health employee Phill Banion felt invigorated.
"I have never felt closer to my coworkers — I'm so proud of everyone," they said.
Workers protested outside the LGBTQ+ health care organization's recently opened Halsted clinic, 3501 N. Halsted St., Wednesday night for improved working conditions as they continue to bargain for their first contract.
It's the second time Howard Brown Health Workers United has taken to the picket line this year. The first strike in January was largely over 61 unionized workers being laid off as management pointed to drastic budget shortfalls.
Nine months later, workers are feeling hopeful, having the fuel from the National Labor Relations Board in July finding merit to charges of unfair labor practices, resulting in the ability for those laid-off workers to get back on the job. At the time, less than half of workers came back on the job, as some had complicated feelings about returning or previous programs were cut, like In Power, which specialized in services for queer people facing violence.
Demands from the union include a minimum wage increase to $20 per hour, insurance for both part- and full-time employees at affordable rates and the ability to negotiate layoffs with 60 days' notice if they're being considered. The union is also pushing for 10-14 weeks of severance, plus insurance through the end of the month following a worker's layoff.
Negotiations around layoffs are particularly important to Julian Modugno, an events planner with the organization, who was one of the 61 workers laid off. He accepted his job back in August after the NLRB findings.
"(Management's offerings on layoffs) are kind of a poison pill in this last big final they pushed," Modugno said.
Meanwhile, management has put forward its "last, best and final" offer, including a minimum wage increase to $19.23 per hour, "comprehensive insurance" to regular part-time staff and 45 days of notice to employees for layoffs. The offer includes a minimum of four weeks of severance pay, plus an additional week for each completed year of service for a maximum of four additional weeks and insurance through the end of the month severance ends.
Both parties are going back to the bargaining table Nov. 21. The union will conclude its vote on Sunday on whether to accept management's proposal.
Katie Metos, vice president of external relations with Howard Brown, said if members vote no on the proposal, management doesn't "have much more movement."
"We are willing to have conversations around what that would look like creatively," Metos said. "There's ways that we can move things around that we've proposed."
For workers, it's also a fight to improve conditions for the organization's three clinics on the South Side.
Tiffany Foster-Mitchell, a lead medical assistant and member of the bargaining committee, works at the 47th Street location where she said the building is old, cockroaches have been found in the clinic and there hasn't been consistent hot water.
It's a stark difference to the newly opened clinic in Lakeview.
"It's so discouraging," she said.
Metos acknowledged there are issues at the South Side clinics but said the organization "works as quickly as they can to solve any issues that come up." They noted that these clinics are all in rented buildings.
"They're old buildings, and that comes with old buildings," Metos said.
Appointment times are another sticking point for workers. Workers say they're given a 20-minute time frame for patients instead of a previous 40-minute standard.
For Hunter Partlow, who's part of the outreach team, it's a pressing issue. Partlow travels around to different areas in the city to provide free STI and HIV testing. He said having the time cut off for appointments lessens the impact on patients.
"We want to keep it elongated to where we're making sure we see everybody we can and we're getting the word across," Partlow said.
Metos said for years clinics have provided both 20- and 40-minute appointments. They said a new medical record system was launched in September and now "patients are using (Howard Brown's) schedules better" and that there are fewer no-show appointments.
For many workers, receiving affordable health care — or any health care at all — is top of mind.
Louis Spraggins, a partner services coordinator and member of the bargaining committee, said he can't afford the currently offered PPO insurance — a quality of care he said he needs as an HIV-positive person.
"We want to not have to pay a third of our income in order to get health care," Spraggins said.
It's crucial for Glenn Short as well. They've been working at the organization's retail arm, The Brown Elephant, for more than two years. Most of the workers at the store's three locations are part-time, meaning they're currently not eligible for health insurance.
"Anytime that I'm talking to people who don't already know this, they are very surprised to learn that Howard Brown, which is a queer health care organization, … doesn't actually give me insurance," Short said.
Management did include health insurance for part-time employees in its latest proposal.
Short said workers are also "kept at a stagnant wage" at $16.18 per hour, which doesn't put them in a position to save money and has them working an additional part-time job.
The union is aiming to raise the minimum wage to $20 per hour, but in management's latest offer, management proposed a minimum wage increase to $19.23 per hour.
Workers made it clear that despite these challenges, people stick with these jobs because they're often part of the communities they're working with.
"Our staff has made it really clear that they're here for the same reasons that our management is — to serve our patients," Metos said.
For Short, they have a personal investment in queer health care. They started hormones six years ago and "against all odds" had supportive health care providers. It turned their quality of life "into something so much better."
"I want that to be the standard — I don't want that to be this exceptional story," they said.
Spraggins, 45, got into this work while in high school because he was watching people around him suffer from HIV.
"I do this work and the other staff do this work because we care about our communities, we care about our patients and we want things to be better for them and we want things to be better for ourselves," he said.
---
link