Too many people are suffering and dying on waiting lists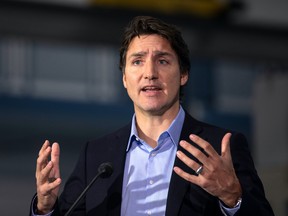 Article content
Let's get a couple of things straight: If the health-care system is broken then private care should be allowed (says the Supreme Court of Canada.)
Article content
If you are suffering, or dying, on a waiting list then that is a breach of Section 7 of the Charter of Rights and Freedoms, the right to life and security of the person, and that should open the way to private care (says the Supreme Court.)
Article content
Countries that have public and private health-care systems generally have better outcomes for people (the Supreme Court, again.)
All this was 17 years ago, and yet here we are still struggling with an under-resourced health service that fails patients and medical professionals alike. Why? Because politicians haven't the courage to tackle something they believe Canadians hold sacrosanct, and because people don't want to change something they have been brainwashed into believing is a foundational myth of this country.
Article content
Only this week, Prime Minister Justin Trudeau was reverting to facile platitudes.
"Our universal system has long been a model to the world," he said Wednesday.
No, it hasn't. No country has adopted the Canadian system and, as was noted 17 years ago by the Supreme Court, most western democracies have public-private models that not only work well but flourish.
"Canadians are rightly taking pride in that," the prime minister added in reference to our "universal" model.
Really? Trudeau's former health minister Jane Philpott doesn't appear to agree.
"We've had this kind of collective, national myth that we've got the best health-care system in the world, when in fact we pay more than most countries in the world per capita for our health system," Philpott told CBC's Matt Galloway on The Current this week.
Article content
If our health-care system isn't serving the people, then surely we need to change it. If more and more people are joining longer and longer waiting lists, then we need to find solutions, and yes, outside the public system if necessary.
We need to divorce ourselves from the myths and misconceptions surrounding universal health care and look instead at the real pain and suffering caused by a broken and outdated model.
Because too many people are suffering and dying on waiting lists.
A report last month from think tank SecondStreet.org found "At least 13,581 patients died while waiting for surgeries, procedures and diagnostic scans (everything from hip operations and heart surgery to CT and MRI scans) in 2021-22." The report also noted "Surgical waiting list deaths were up 24 per cent among health bodies that provided data since 2018-19."
Article content
Behind each one of those 13,581 patients is tragedy and suffering. SecondStreet.org pointed out the case of Judy Anderson, a retired nurse from Port Perry, On., who lost two daughters due to excessive wait times. In both cases, she got a call to schedule her daughters' surgeries after they had died.
And yet, 17 years after a landmark Supreme Court ruling that appeared to open the way to private care we cling to a broken "universal" system that ensures everyone suffers.
The Chaoulli ruling in 2005 came as a shock to politicians, health care professionals, in fact, the country as a whole.
The case was limited to Quebec but many people believed that the similarity of other provincial health care systems would mean the ruling would have a countrywide impact.
Article content
But that was not to be the case. There were some changes in Quebec but the rest of the country ignored the Supreme Court, finding the ruling was full of inconvenient truths.
One of the most quoted lines from that ruling was by Chief Justice Beverley McLachlin who said: "Access to a waiting list is not access to health care."
The majority of the judges found that people should have access to private insurance so they could get private medical treatment when waiting lists were unreasonably long.
"The (Quebec) government has prohibited private health insurance that would permit ordinary Quebeckers to access private health care while failing to deliver health care in a reasonable manner, thereby increasing the risk of complications and death," said the court.
Article content
"The evidence in this case shows that delays in the public health care system are widespread, and that, in some serious cases, patients die as a result of waiting lists for public health care."
Jesse Kline: Doug Ford brings only modest health-care reforms and the left goes berserk anyway

Michael Higgins: Trudeau refuses to even discuss what needs to be done to fix our ailing health-care system
The court ruled that in those circumstances people were being denied their right to life and security of the person under Sec. 7 of the charter.
Other countries allowed private care and the public system had not collapsed, the court found.
"The evidence on the experience of other western democracies with public health care systems that permit access to private health care refutes the government's theory that a prohibition on private health insurance is connected to maintaining quality public health care. It does not appear that private participation leads to the eventual demise of public health care."
Article content
In fact, evidence before the court was that private care helped the public system.
"After reviewing a number of public health care systems, the Standing Senate Committee on Social Affairs, Science and Technology concluded in the Kirby Report that far from undermining public health care, private contributions and insurance improve the breadth and quality of health care for all citizens."
On Feb. 7, Trudeau has a First Ministers meeting with premiers around the country to discuss improving health care. Now is not the time, he said, for divisive and obstructionist policies. And while we can agree on that, if the prime minister truly wants to see reforms then now is also not the time for entrenched ideologies and outdated national myths.
National Post
link