Saturday, Jan. 21: Readers aren't happy with Ontario's proposal to fund procedures outside hospitals. You can write to us too, at [email protected]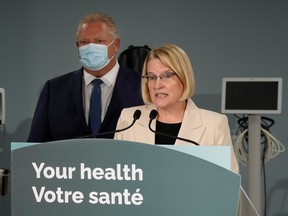 Article content
A strange choice on health funding
Article content
Re: Eye clinic given licence to perform 5,000 extra cataract surgeries, Jan. 18.
Article content
The Ontario government had a choice. It could have paid for the expansion of the publicly funded Ottawa Eye Institute, where Dr. Kashif Baig skilfully performs very difficult eye surgeries, or it could have paid for the expansion of the private Herzig Eye Institute Ottawa, where Baig is medical director.
It would help all who are concerned about this choice if the government explained why it chose to expand the private Herzig Institute rather than the public one. Will it cost less, provide better service, help more people, or … ?
I have heard medical staff complain that they are "burning out" because of the high-stress environment of full-service hospitals. Perhaps there would be less burnout if the medical staff of both the hospital and the specialized surgical centres were part of the same public institution so that staff could be rotated regularly between the high-stress areas and departments where more routine surgeries are performed.
Article content
Dave Parnas, Ottawa
Ford pretends to be pragmatic
Re: Ontario to expand private surgeries, Jan. 17.
The Ford government's solution to the problem of long wait lists for cataract surgery raises an important issue of public policy.
There needs to be a paradigm shift in public policy away from an emphasis on the private sector to an emphasis on the public sector in matters such as health care, long-term care and housing. This is not to say that the private sector does not have a role to play, but rather that the balance should shift to investing public money in social infrastructure rather than what is now happening in these sectors.
I believe that Premier Ford is ideologically committed to moving towards private-sector solutions, and, despite advice from professionals to the contrary and numerous alternative models, will not llook at anything that does not fit his world view. He is shrewd enough to realize, however, that he can only move to the right incrementally while at the same time claiming to be solving problems such as reducing long wait lists.
Article content
Ford is an ideologue posing as a pragmatist.
David McConnell, Nepean
Plan missing for post-operative care
No one could object to the goal of reducing the huge waiting lists for surgery in Ontario, but nowhere have I seen a plan for post-operative care for these patients.
This is less of an an issue with cataract surgery than hip and knee replacements. Those are major operations. Most of these patients are elderly, so discharging them home the same day will require home care. Our current home care system is overloaded. I assume patients experiencing post-operative complications will be told to go to hospital ERs, all of which are past the breaking point.
The key issue here is one of staffing: increased numbers of qualified staff, not just in these private clinics but at all points of care. Patients on waiting lists are not just numbers to be checked off,  but real people requiring real care.
Article content
Ann Popovich RN (retired), Kanata
Where is the logic to this spending?
Ottawa has a number of reputable ophthalmologists performing cataract surgery in publicly funded facilities. I know of at least one well-respected surgeon who has had his operating time cut dramatically during COVID, perhaps understandable under the circumstances. But those hours were also being cut before COVID as well, understandable only as a cost-cutting measure of the provincial government.
It was, therefore, galling to read that a private, for-profit clinic would receive a licence to perform 5,000 cataract surgeries, covered by OHIP. The cost paid per surgery will exceed that paid to the surgeons operating in public facilities, including specialty eye clinics associated with The Ottawa Hospital and I suspect that those additional 5,000 surgeries could be performed in these not-for-profit settings. Where are the savings and where is the logic in this plan?
Article content
Karen Swinburne, Ottawa
Can't the new hospital handle this?
Ottawa is building a new hospital. Does the premier's announcement mean that the new hospital is being built without an adequate number of operating rooms? Are we spending a fortune on a hospital that will not be up to the job? Why go private when we are building a new public hospital?
Richard Jamieson, Ottawa
Let's study what the Europeans do
I think it would be valuable to study places where public and private health care are used together, such as in Europe.
Going to a hybrid style of health care does not mean going to U.S.-style health care — which is more expensive than ours. Unfortunately, our gaze is firmly fixed on the U.S., where universal access is not assured.
Article content
Surely we can find out what the European nations do, then adapt it to our Canadian needs, before we allow our systems to break down entirely.
I have a feeling that the Europeans do not pay their nurses low wages, then wonder why the nurses burn out under mandatory overtime policies. Perhaps one way of increasing healthcare efficiency would be to pay nurses better.
Eleanor Abra, Ottawa
Those without family doctors need help
On Jan. 2, I received an email from the Orléans Family Clinic, advising me that my family doctor and two other physicians are closing their practice. An attached letter said they would not renew their contract with the clinic after April 6. No reasons were given, just information about finding another family doctor.
Article content
When I spoke to my doctor, she pointed out that the Ontario government's lack of support for family practices, lack of support for nursing and the imposition of a high administrative burden were contributing factors to the closure.
As I understand it, her practice is not generating enough revenue through OHIP to pay herself and cover her clinic's costs. Is Premier Doug Ford trying to squeeze OHIP to generate the $10 billion dollars to build his highway to Vaughan?
My doctor and I had developed an excellent rapport.  Suddenly, I have to start all over again. I am considered a complex patient because of my age and related illnesses.  With thousands of people in Ottawa looking for a family doctor, I don't have a hope of finding a replacement.
Article content
I am frustrated and extremely unhappy with how this Conservative government is running health care into the ground. I want to convey my anger and shock at its misguided policies. I want to know what will happen to me and all those thousands of patients abandoned by our fleeing family doctors after April 6. My — our — situation is urgent!
Tad Skalski, Orléans
Make Wellington a great urban space
Re: Debate ignites over future of Wellington Street, Jan. 19.
I urge the City of Ottawa to keep Wellington Street closed to cars and open to people and electric transit. You have created a great opportunity to build a good urban space; don't let it go to waste! I love walking down a street, with not a noisy polluting car in sight. It's what we deserve as a world-class capital city.
Article content
When the mayor says the "closed road" reminds him of the trucker convoy, I think the opposite. A road choked with polluting cars, SUVs and trucks reminds me most of the convoy. Ottawa is choked with car pollution.
Once you let cars back on, you can never close the street again. If the mayor doesn't have the guts to stand up to the powerful car lobby that elected him, I would encourage him to step aside and let the responsible Canadian government manage that space.
Adam Bentley, Ottawa
Letting cars in would be a mistake
The closure of Wellington Street is a once-in-a-generation opportunity to reimagine this important space for Canadians. Simply letting cars back in would be a big mistake. Instead, let's do what so many other cities have done: create a pedestrian-friendly area where tourists and locals alike can safely gather and celebrate.
Article content
Leah Geller, Ottawa
E-bus investment seems dubious
Re: Ottawa's electric bus ambitions don't add up, Jan. 18.
Robert Lyman's article about Ottawa's electric bus ambitions is spot-on. The reality is that public confidence in Ottawa's transit system is at an all-time low. So why would city council proceed with another questionable decision on public transit that would have the potential for more problems and delays?
Hopefully, the new members of city council will infuse some badly needed sanity into this questionable direction.
Grant Peart, Ottawa
Why E-buses are a good idea
Robert Lyman uses the old excuse that we only produce a small amount of global fossil-fuel emissions and so should continue doing nothing to reduce our emissions. Shamefully, Canada continues to be one of the world's leaders in emissions per capita. We emit more CO2 per capita than the U.S. and any European country (twice as much as Finland).
Article content
Lyman ignores the health impacts of air pollution produced by internal combustion engines. The total economic cost of health impacts attributable to air pollution in Canada was estimated at $120 billion per year (2016). We are a wealthy country and should be showing leadership. We must stop vying for the "colossal fossil" award.
Nancy Biggs, Orléans
Transpo is working on climate goals
OC Transpo is aware that electric buses are more expensive than diesel buses; we do not need an economist to tell us that. But we are like the frog that cannot decide to jump out of the pot of slowly boiling water. We have to shake ourselves out of the warming climate.
Each one of us only contributes a minute amount of CO2 to the atmosphere, but we must nevertheless each try to reduce our emissions because there are 8 billion of us on the planet. It does not matter what percentage of the total emissions is due to buses; it must be reduced.
Article content
Buses not only add fuel to the burning global climate, but they also affect our health directly with their noise, toxic fumes and particulate matter. Did you ever notice the black soot covering your patio furniture?
Ottawa has developed environmental goals on behalf of all of us and OC Transpo is working on them.
Richard Asselin, Ottawa
Thanks for honouring COVID victims
Re: It's time create a permanent memorial to those who died of COVID-19, Jan. 13.
Isn't it ironic that the hedgerow will not hold all the crocheted stars made to remember the COVID victims in this city? How interesting, considering the crisis in health care that was precipitated by this horrible pandemic. How generous and kind to remember each victim individually, as Wilhelmina Ross has done.
Article content
Hopefully her tributes will be incorporated into a larger memorial which will provide some solace for families mourning their lost loved ones. Thank you for this informative article.
Celia Carter, Brockville
Freedom of speech should prevail
Re: Coalition of Ottawa community groups wants local Jordan Peterson event cancelled, Jan. 19.
Why is it that some groups wish to squash others who want to express their opinions? In the current age of gender freedom, would they truly wish to deny to others the very principles that gave them the right to speak their own minds openly?
Jack DeKok, Stittsville
Peterson has the right to speak
I do not often agree with what Jordan Peterson says, but "I will defend to the death his right to say it," to paraphrase Voltaire.
Article content
The organizations protesting his lecture at the Canadian Tire Centre supposedly stand for acceptance but obviously do not accept opposing views. If they feel free to speak out and defend their position, why shouldn't he? The comparison to the occupation of the city by the trucker convoy is laughable.
Helen Clark, Ottawa
Canada, please help Afghan women
Re: Mursal Nabizada's slaying must spur Canada to help female Afghan MPs, Jan. 17.
The Canadian and U.S. governments should allow Afghan women, activists, politicians, teachers, those whom the Taliban has targeted, and, especially, those who aided the western alliance, to immediately gain permission to emigrate to the alliance countries.
These alliance members spent 20 years in Afghanistan and made promises of liberation (or at least education and freedom) to Afghan women. Now the women are right back where they started before the western invasion of their country, subject not only to discrimination but also to execution.
Article content
Prime Minister Trudeau, President Biden and others: let these women come and be a benefit to our western societies. We have helped them to advance and we could reap the rewards of these efforts, since they are not wanted at home.
Valerie Burton, Ottawa
Yup, Senators' coach needs to go
Re: It's time the Ottawa Senators parted ways with D.J. Smith, Jan. 17.
Hurray to Randall Denley. I have been saying this for the past two years. Coach D.J. Smith should be fired; his system of play is terrible and wrong.
We have a team that can easily be in the playoffs.
Albert Safarian, Ottawa
Today's letters: Let's discuss biodiversity in urban areas

Today's letters: On burning Ottawa's waste; and explaining COVID deaths
link