Internationally trained doctors are being sidelined in Canada while six million Canadians do not have a family doctor.
Internationally trained physicians, commonly known as international medical graduates, are medical professionals who completed their education outside of Canada or the United States. They are a diverse group of practitioners trained in various specialties.
Many move to Canada for a better quality of life, training opportunities and political and economic security. Historically, most have migrated through the Skilled Worker Express Entry Program, which favours their extensive educational backgrounds. Nonetheless, they face multiple obstacles throughout the licensing process.
In October 2021, a community research team from Simon Fraser University, supported by an advisory committee, led research on Canada's exclusionary medical licensing policies.
The project emerged from Trained To Save Lives, a social media campaign about the role of internationally educated health-care professionals in British Columbia's COVID-19 response.
We conducted interviews with 11 internationally trained doctors in B.C. While this study was conducted in B.C., the findings highlight licensing barriers for internationally trained doctors across Canada.
Eight steps
The path to being licensed in Canada is complex, especially since each province has its own licensing system. In B.C., the requirements include:
Internationally trained physicians must have a medical degree from an accredited school from the World Directory of Medical Schools.

They must provide language proficiency certification if the language of their obtained medical degree is not English and the provision of care is not undertaken in English.

They must pass the Medical Council of Canada Qualifying Examination Part 1 and the National Assessment Collaboration Objective Structural Clinical Examination.

They must apply for a Clinical Assessment Program.

They then must complete a residency or Practice Ready Assessment.

When applying for residency, they are required to sign a Return of Service contract.

They must obtain a provincial licence. In B.C., these are granted by the College of Physicians and Surgeons of British Columbia.

Finally, they must go through a certification process involving national certification exams administered by the College of Physicians and Surgeons for family physicians or the Royal College of Physicians and Surgeons of Canada for specialists.
Licensing barriers
From our interviews, we identified several barriers. The National Assessment Collaboration Objective Structural Clinical Examination, required for international medical graduates applying for Canadian post-graduate training, was noted as a key obstacle.
While graduates of Canadian and American medical schools do not need to complete this exam, internationally trained doctors must pay significant fees to undertake the assessment, which has few offerings annually.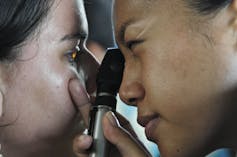 Several endured long wait times and encountered problems with settlement workers regarding their career prospects. They were told their education "meant nothing" in Canada.
Internationally trained physicians highlighted a lack of transparency, including unclear information about licensing. Although they expected being relicensed would be arduous, they were unprepared for the difficulties they faced.
Their experiences contradicted the federal immigration department's call for skilled workers. Instead, many were pushed into low-paying, precarious jobs that don't match their education or experience.
---


Read more:
Gig platforms help immigrant care workers find jobs, but they are only a temporary solution


---
Scant residency spots
One of the most profound barriers that internationally trained doctors have lobbied against is the limited number of residency positions available for them.
Residency is post-graduate training required for licensing. The Canadian Resident Matching Service, the organization responsible for matching applicants with residency programs, separates positions into two streams: Canadian medical graduates, and international medical graduates.
When applying, international medical graduates are permitted to compete for just 10 per cent of positions and are restricted to a handful of under-serviced specialties, like family medicine.
Another systemic barrier is the aforementioned Return of Service contracts. Under these contracts, internationally trained doctors who secure residency positions must work in an under-served community for two to five years (excluding Alberta and Québec).
Just as Canadian medical school graduates do not have to complete the National Assessment Collaboration Objective Structural Clinical Examination, nor are they required to work in under-served communities for years.
Collectively, these barriers negatively impact the mental health and well-being of internationally trained doctors.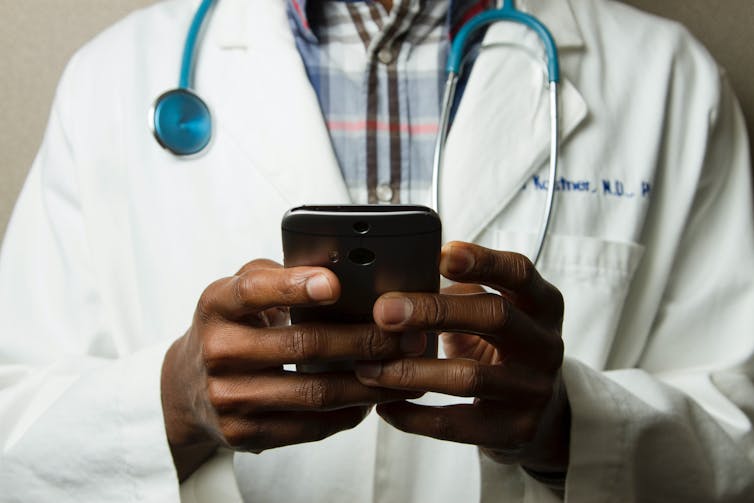 Changes ahead
Some provinces have introduced initiatives to enable internationally trained doctors to practice. The College of Physicians and Surgeons of Alberta announced a pilot project to waive some requirements, but only for doctors from approved jurisdictions, like the United States.
The B.C. Practice Ready Assessment program will also increase from 32 to 96 seats to provide internationally educated family doctors with post-graduate training an "alternate pathway to licensure."
Although these are important steps forward, they don't address all the systemic barriers to licensing. They do not allow these qualified physicians to use their expertise to support a strained health-care system.
The federal government recently launched a call for proposals aimed at addressing Canada's labour shortage by allowing internationally educated professionals to work in the Canadian health-care system.
Meaningful engagement with internationally trained physicians is also required to integrate them into the health-care workforce. We propose:
Providing transparent and clear information about licensing requirements prior to migration.

Prioritizing mental health supports upon arrival and during the licensing process.

Increasing the number of residency positions and medical specialties for internationally trained physicians.
link